Tour to Machu Picchu from Cusco full day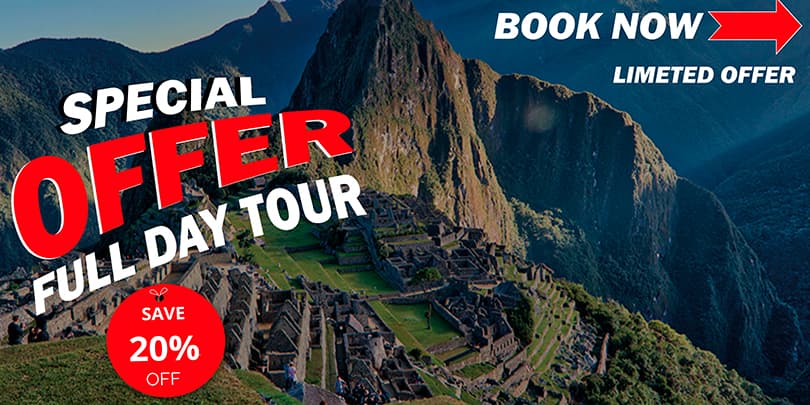 Description
Machu Picchu is the Inca citadel most important and wonderful in Peru. "Machu Picchu Sanctuary" is located at 2430m on the highness of the Andes of Peru. This attraction is often referred to as "The Lost City of the Incas" and is surrounded by a breathtaking tropical landscape due to the location.
Machu Picchu is one of the main reasons for pride for all Peruvian and the most important Tourist destiny of Peru. The magnificent building and the Location show the magnitude of the progress of the Inca empire on the splendor.
The Inca citadel is one of the most famous and spectacular sets of ruins in the world.  UNESCO World Heritage Site since 1983, Machu Picchu receives over one million visitors per year and is one of the New 7 Wonders of the World.
If you have planned to meet Latin America in your next Journey. This is without any doubt a place full of beauty and history you can not skip.
How to make a tour to Machu Picchu from Cusco?
Cusco is the capital of the Tahuantinsuyo Empire and the main access to Machu Picchu.
From Cusco, you can make different kinds of tours to Machu Picchu. The choice will depend directly on the economy of each traveler.
The tours you can make according to the preference you have are:
Full day tour to Machu Picchu by train.
Sacred Valley  plus Machu Picchu 2 days.
Machu Picchu by car 2 days.
Inca jungle 4-day adventure tour.
Inca trail trekking to Machu Picchu.
Each one of these tours you can make with us Inka Express. However, if you love to travel alone without any schedule and itinerary you may do it on your own too.
To do that, Firstly, You have to arrive in Aguas Calientes the nearest village to Machu Picchu citadel. From there you can reach  "The Lost City of the Incas" walking or by an ecological bus ride. You can reach Aguas Caliente by train, trekking or a combination of the bus ride and trekking (Hidroeléctrica).
Do you want to visit Machu Picchu with Inka Express?
In this article, we show the most popular way to do a tour to Machu Picchu from Cusco just in one day.
Inka Express with the experience and reputation that supports us, we can organize your tour to Machu Picchu by tourist train and all included.
Nowadays, The railway route that accesses and reaches Machu Picchu Village (Aguas Calientes) is operated by two Company PeruRail and Inca Rail. Inka Express as a tourist Company has an alliance with both, to get the best prices and Schedule.
The train tickets as the entrances to the Inca citadel are according to availability. Therefore, It is advisable to book the tour in advance.
Machu Picchu has many things to offer you. It is a world stopped in time and you should visit least once in your life.  Above all, Inka Express going to give you a marvelous experience that will change your life.
Itinerary
Itinerary the Tour to Machu Picchu  from Cusco
Early in the morning, we'll pick you up in tourist transportation from your hotel at Cusco.
Then, we take you to the train station at Ollantaytambo or Poroy by tourist shuttle. According to availability, you will take a train to Aguas Calientes (Machu Picchu Village). The landscape during the trip is amazing because you will travel through the Peruvian Andes and the rainforest.
Once arriving in Aguas Calientes, a representative from our company will be there waiting for you. So, this person will give some explanations and will take you to the bus station of Aguas Calientes.
It's here you'll take a bus to begin the ascend to the Lost City of the Incas  "Machu Picchu" 25 min approximately. Once in Machu Picchu, we'll begin the tour with a professional tour guide, for more than 3 hours  At the end of the tour, you'll have some free time to enjoy this marvel, take some photos, etc. After the free time, you'll return to Aguas Calientes by Ecological Bus again, where you'll take your lunch and then board the train back to Cusco.
Included
 Tour to Machu Picchu from Cusco included
Private transportation: Cusco hotel – train station –  Cusco hotel.
Tourist train tickets Round trip.
Entry ticket to Machu Picchu citadel.
Ecological bus tickets From aguas calientes  to Machu Picchu citadel.
Guidance with a small group.
Not included:
Food and Additional costs like Tips