Cusco to Puno Bus VIP Tourist Service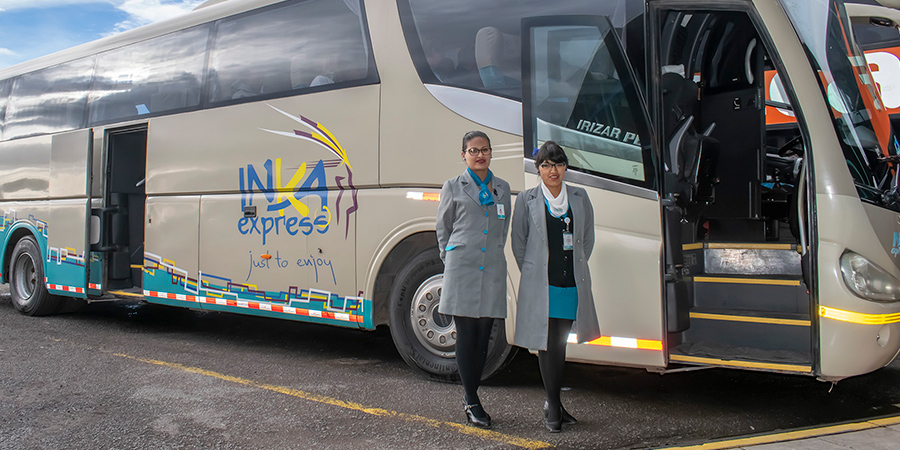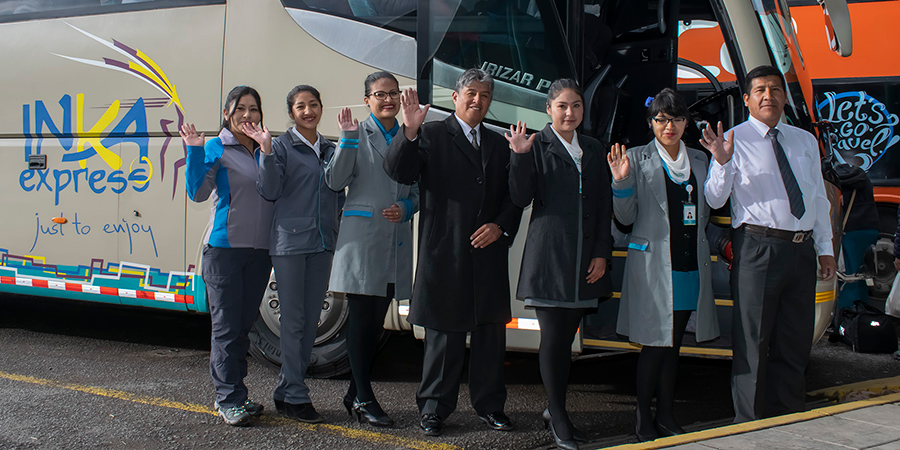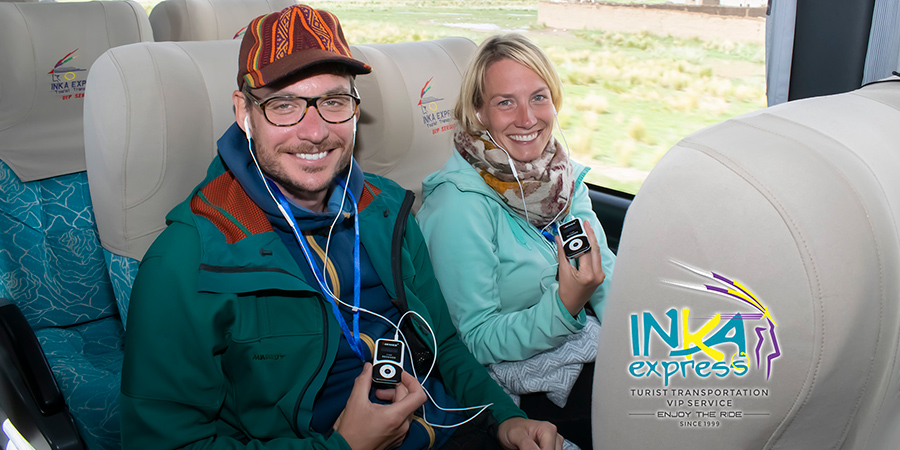 Description
Overview
This tour  Cusco to Puno bus Inka Express, also known as the 'Sun Route' lasts approximately 10 hours, in the course we will have 4 stops in tourist places and visit with the guide to each tourist attraction such as the temple of Andahuaylillas or Sistine Chapel of America, the Inka temple of Raqchi, the pass of the Raya at 4335 meters above sea level and the Inka Aymara museum of Pukara. Each visit lasts 20 to 40 minutes, where the passenger can ask questions, take pictures and explore the attraction at their own discretion, making this experience an unforgettable activity.
Buffet lunch: It consists of foods from the Andes with which they prepare typical food and international Novo Andina food, the diet includes legumes, grains, red and white meats, varieties of salads, a selection of desserts and a variety of hot drinks. which are served in a comfortable restaurant typical of the city of Sicuani.
Departure Cusco to Puno bus
Bus departs from Av. Alameda Pachacuteq 499-B. Cusco at 6:40 am
Arrival
The bus arrives at Puno's Earth Terminal at 05:00 pm.
Itinerary
CUSCO TO PUNO BUS ITINERARY
6:40 am — Departure (Cusco) — 3400 meters of altitude. Av. Alameda Pachacuteq 499-B.
Andahuaylillas "Sistine Chapel of America"
7:40 am  — 3122 meters of altitude.
There, you will find the church of San Pedro Apóstol de Andahuaylillas, built by the Jesuits in the 16th century.  Like other Spanish and religious constructions of the time, it was built on top of a huaca or sacred place for the Incas. Made of adobe and brick, the church is a small structure consisting of a single nave, apse and bell tower. But there is a reason why it is known as the "Sistine Chapel of America".
Raqchi  "Temple of Wiracocha"
10:00 am — 3450 meters of altitude.
The most important building within the complex is the "Wiracocha temple" that according to the ancient chroniclers was built by the Inca Wiracocha in honor of the invisible Superior God of the Andean people: "Apu Kon Titi Wiracocha". The "Wiracocha Temple" is a great construction for that age. Architecturally it is classified as "Kallanka", that is, a tall building completely covered with straw (wood and "ichu"). Externally it is 92 meters long (302 feet) and 25.25 meters wide (83 feet).
Marangani Buffet Lunch
11:35 am — 3552 meters altitude.
Sicuani is a relatively large city of the highlands. The city is an important intersection, with the road to Puno / Arequipa passing through here. This city is surrounded by beautiful snowy hills. Afterwards, you have a buffet lunch in our exclusive restaurant with a family atmosphere.
La Raya
12:50 pm — 4335 meters of altitude.
Abra La Raya (La Raya) is the watershed between the valley that flows into Lake Titicaca and the valley that leads to Cusco and the Sacred Valley. The altitude is 4,338 meters (14,232 feet).
Pucará Museum
2:30 pm — 3900 meters of altitude.
Pucará was the first regional population nucleus in the Titicaca basin north of the lake during the Late Formative Period (500 BC-200 AD), which provides valuable information about the origins of the Andean civilization in the highlands. During its heyday it covered more than a square kilometer and housed thousands of bureaucrats, priests, artisans, farmers, shepherds, and possibly warriors.
The Pucará style is identified by impressive monolithic sculptures with a variety of geometric, zoomorphic, and more intricate anthropomorphic images, multi-colored ceramics in a variety of ritual and domestic forms.
Bus terminal Puno
5:00 pm – Arrival (Puno) – 3800 meters of altitude.
Note: "Our itinerary varies according to weather changes"
Price and what included
Promotional Price just for December USD 39.99, regular price USD 50.00
The tour from Cusco to Puno bus includes
Transportation to Puno
Guided visit to Andahuaylillas, Raqchi, La Raya and the Lithic Museum of Pucará
Buffet Lunch in Marangani – Sicuani
Service on board (Hot Drinks: Tea, coffee, coca tea, chamomile, anise / Cold Drinks: Coca Cola, Inca and mineral water)
Hygienic services, oxygen, heating
The cost DOES NOT include
Access Fees to places of visit (Andahuaylillas, Raqchi, Pucará)
Breakfast
Accommodation in Puno
Extra expenses